Dough-Nu-Matic – Sadly no longer available!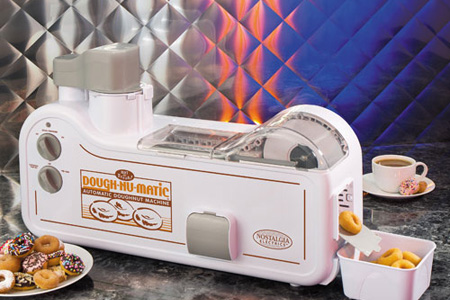 A friend sent me this link and I think I'm in love. Apparently it was a tabletop, home doughnut-making machine which was made and sold through ThinkGeek several years ago and is now unavailable. From the looks of the YouTube video I found, once the batter is prepared, it is poured into the waiting receptacle and the machine forms, fries, and dumps out the freshly-fried miniature offerings, ready for frosting or dusting.
Granted, the ones in the picture above look perfectly-formed while the video below shows them to be more misshapen. But I don't care. I love the idea that this thing existed and hope-and-against-hope that some day, someone will realize they have one sitting in their garage and send it to me.
And, yes, I still believe in Santa Claus and the Easter Bunny.