Elite Café – Doughnuts and Beignets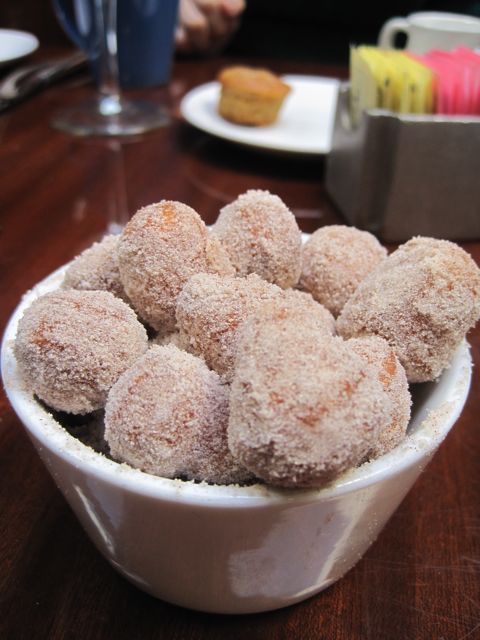 After the long, wet winter, an early Spring Sunday brought about a lovely brunch with Dave and Gina at the San Francisco's Fillmore District restaurant, Elite Cafe. This was a very special day in so many ways. You see, Darling Gina is the bad-ass, leather-clad, motorcycle-mamma, hot-chick who helped me craft the too-cool-for-words banner you see here at Fried Dough Ho. When I initially came up with the name, I had an idea that a 1950s Burlesque Queen would represent the sultry sauciness of my fried-dough-whoredom, brainstorming that someone like Tempest Storm or Blaze Starr could be Photoshopped with doughnuts masking her attributes. Well it was Gina who thought to go back a few years early and look at the Ziegfeld Girls and when I stumbled on the image of the lovely Evelyn Groves holding a giant hoop, I knew that her naked naughtiness would be the perfect representation of demure and enticing as she grasps the cakey goodness. So here's a shout-out to Gina!
I like the brunch at Elite Café because of their New Orleans-inspired dishes; shrimp and grits for breakfast can't be beat. They also have these home-made biscuits that I swear have crack cocaine in them. Even the servers call them Crack Biscuits. And their skillet-served corned beef hash with poached eggs is pretty darn good too. But one of the specialties that invokes New Orleans are their beignets and miniature doughnut holes. The holes come warm and fresh, about a dozen morsels in a small bowl, each less than an inch in diameter, dusted with granulated sugar and cinnamon. They are very addictive and must be eaten while still fresh and warm. Once cold, they lose their charm. At $2.75 a bowl, these should be ordered as you sit down and peruse the menu (along with a Kir Royale or spicey Bloody Mary).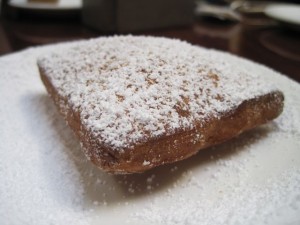 Elite goes full force with its NoLa menu and no New Orleans knock-off would be worth its salt without a beignet. At $2.00 each, this is where Elite falls short, I'm afraid. Approximately 2″ x 3″ and heavily dusted with powdered sugar, these are heavy and laden and on several occasions, still doughy and gummy inside (as in these pictures). Instead of light and fluffy and addictive, one bite of this door stop was enough for me. Go to Elite Café, yes, but stick to the holes and the biscuits!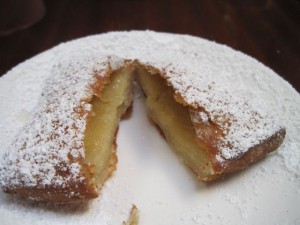 2049 Fillmore St
(between California St & Pine St)
San Francisco, CA 94115
Neighborhoods: Pacific Heights, Lower Pac Heights
(415) 346-8400
Tags: cinnamon, Fresh, Granulated Sugar, Powdered Sugar, Warm