Polish Doughnuts – The Joy of Pączki
Get the flash player here: http://www.adobe.com/flashplayer
As part of the planned events surrounding the Birthday of The Ho was my abject desire to fry my own dough for the first time. At first, I thought of just trying some basic recipe just for experimentation purposes. Then I stumbled upon a Polish festival and learned about a glorious fried dough known as Pączki. I learned that the incredibly rich, egg-based, alcohol-laden pastries are rarely seen these days, even in "the old country." The Poles I spoke with told me that because of the need for mass-production, very few pastry shops even bother with the authentic recipe and I knew that I had to. I hunted around and found what seemed a fairly decent recipe…
Ingredients
12 egg yolks (or six whole eggs)
1 teaspoon salt
2 (1/4 ounce) packages active dry yeast
1/4 cup warm water
1/3 cup room temperature butter
1/2 cup fine granulated sugar
4 1/2 cups all purpose flower
1/3 cup rum or brandy
1 cup scalded whipping cream
1 1/2 cups preserves or cooked prunes, cooked apples, or poppy seed filling
oil for deep frying
1. Whisk egg yolks with salt with electric mixture on high until it lightens, approximately 7 to 10 minutes.
2. Please yeast in warm water to soften.
3. In a separate bowl, cream butter and sugar until sugar completely dissolves and mixture is light and fluffy.
4. Slowly add in the softened yeast.
5. Stir in one cup of flour with the rum/brandy and half the cream. Continue stirring until smooth.
6. Add another cup of flour and the remaining cream, beat until smooth.
7. Add another cup of flour with the egg mixture and beat until well-blended, at least two minutes.
8. Continually add in the remaining one-and-one-half cup of flour while blending until the dough begins to blister.
9. Cover and set in a warm place to rise, until dough has doubled in bulk.
10. Punch down and let rise again, until doubled in bulk.
11. Roll the dough out to 3/4 of an inch thick and cut into 3″ rounds.
12. Place a tablespoon of filling the center of one circle and top with a second circle. Seal with a bit of water.
13. Place on a lightly floured surface, cover, and let rise another 20 or 30 minutes.
14. Heat oil to 350º and fry the paczki  until they are golden brown on both sides.
15. Drain and sprinkle with powdered sugar or drizzle with honey.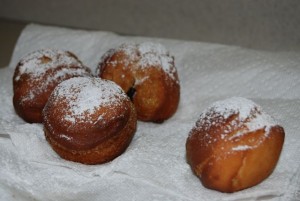 A few words about the recipe… It is ascribed to a woman named Vina who claimed to get it from her grandmother. From all accounts of my research, it seems a very authentic recipe although there is some dialogue about replacing the 12 egg yolks with 6 whole eggs. It seems some have claimed it was too eggy with the latter. I made it with the full 12 egg yolks and did not find it nearly as eggy as some recent beignets I have had.
It is said that there is a 30-minute prep time with a total of an hour-and-a-half. I'm not exactly sure what type of computation that is; including rising time? Yes, once I had my ingredients ready, it took about 30 minutes to compile the dough. I used brandy as I wanted a richer, less sweet taste to the dough. My first rise took four hours. The second rise took another four hours. But I live in chilly San Francisco and I was still putting the container on an oven that beans inside, slow-baking.
It is said that the dough should make about 18 doughnuts. I used a little smaller than 3″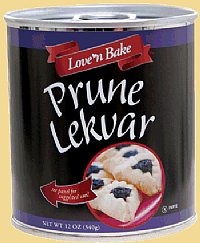 cutter as I knew I had 20-some people at the party and I think we got more than 20 doughnuts. I like them smaller. Also, I used a canned prune/plum filling that had been given to me some time ago; Lekvar. It is a classic Slovakian/Hungarian danish filling which worked beautifully. I also had the distinction of being able to acquire true Polish butter.
There was also much debate about what kind of oil to fry them in. Yes, traditionally it would have probably been lard. And I seriously thought about frying in lard, but opted for Crisco instead. Surprisingly, there was NO hint of greasiness to the finished product. They were rich and tender and far from cloying. Some at the party initially dismissed even tasting one as they were not doughnut fans.
These were far from your classic doughnut; the richness of the egg was toned down with the elegance of the alcohol. I would definitely make the dough again and fry in even smaller portion sizes for individual treats.
Tags: Filled, Freshly-Made, Pączki, Polish, Powdered Sugar, Prune, Recipes