Doughnuts in Art, Part IV – DIY Donuts or Fried Dough in the Crafts Community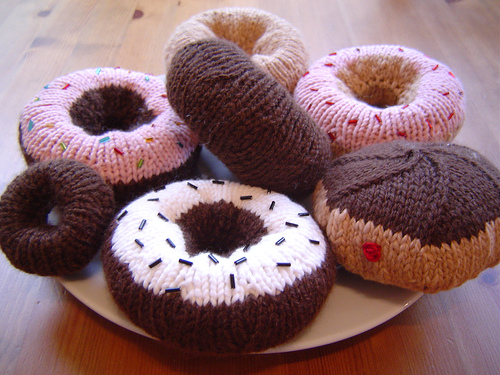 I have been a crafts person for the bulk of my life. As a kid, I used to macrame licorice whips together, using gumdrops as beads, to make bracelets. I have worked in clay and textiles and metal (my somewhat chosen profession). Although now, in the 21st Century, it is no longer called a "crafts culture" but DIY, or Do It Yourself. And among the DIY culture, there are few doughnut-obsessed artists like myself. The photo above is by a knitter named Kat. I like the variable colors and the "jelly" that comes out of the filled doughnut. And she is provides the knitting instructions on how to knit some yourself.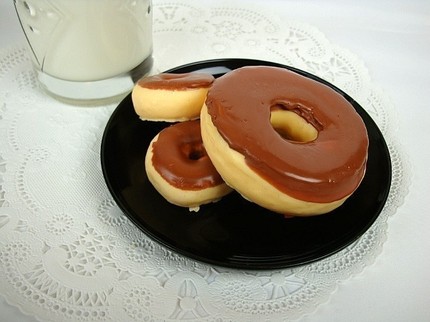 These chocolate-frosted morsels look very enticing and delicious, don't they? Down-right edible?  In fact, they are goat's milk-made soap! I found them on Etsy by an artist named Soapopotamus and you can find these and several other doughnut versions in her shop. Not bad at $5.00, but I would be tempted to eat them before I wash with them.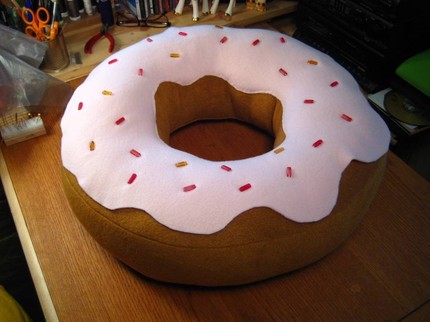 Also found on Etsy is this giant plush doughnut pillow made by Darcyarts. It sort of reminds me of that pillow I had to carry around with me when I herniated a disk all those years ago. I'll let you Google "medical donut pillow" to see what I'm talking about, but trust me, this is a much prettier version than the kind they sell at the pharmacy!
Tags: chocolate, Frosted, glazed, Jelly-Filled, Knit, Pillow, Soap