Doughnuts in Art, Part III – Emily Eveleth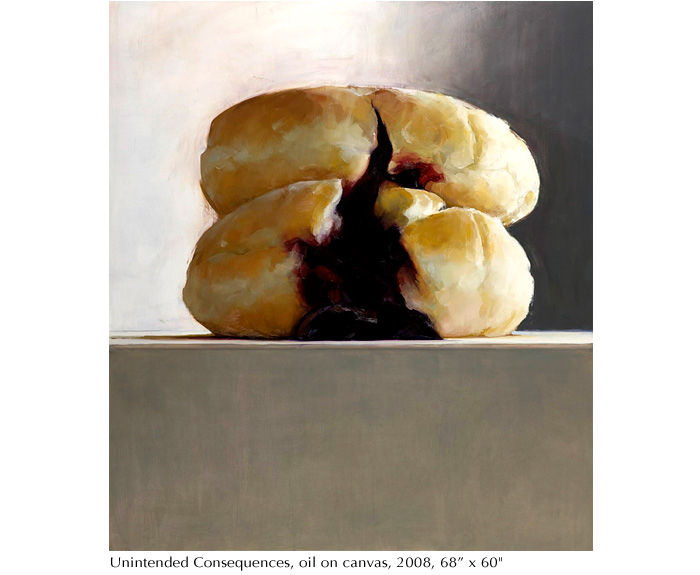 I would like to introduce you to Emily Eveleth. Well, truth-be-told, *I* would like to be introduced to Emily Eveleth but the least I can do is introduce you to Ms. Evelth's amazing artwork. I first saw her work on the cover of Gastronomica in the Winter of 2003 but I will readily admit that it did not have that much of an impact on me then. Yes, it was a very pretty image of a jelly doughnut and one could easily think it was a photograph. That picture, by the way, is entitled Nigh and was painted in 1998.
It was several years later when I attended Art Basel in Miami Beach, Florida in December of 2007 and I saw it (or another from that series) in person that the full effect hit me. Her paintings are HUGE. The one I saw in person was more than 8′ square. And while she paints other things, she has become quite famous for her jelly doughnuts, which she has been painting for over twenty years.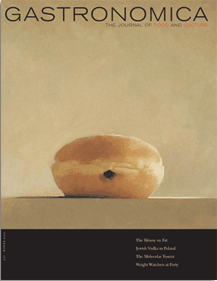 These doughnuts are sensual; oozing vibrantly seductive jelly which seemingly begs to be touched and licked. These are sexual doughnuts with their gaping maws, opening to reveal the moist inner secrets of desire. Her paintings are hyper-realistic in their size, but a form of food porn that exudes sexual innuendo.