Friday, April 2nd, 2010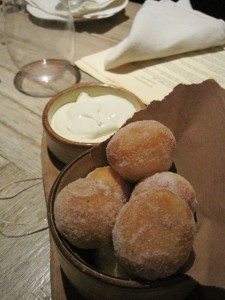 Yes, it is true. During a visit to jolly-old England last fall, I was on a mission to experience Grouse, a specialty game bird that is only available during a very short hunting season in the U.K. and is rarely exported to the U.S. Well, if it IS exported, then it is frozen. I did my research to find one of the better places to eat grouse and was recommended to Harwood Arms. I'll write up that grouse dinner on a different site, but suffice to say I was definitely thrilled that this five course, sumptuous meal culminated in an offering of Fried Dough!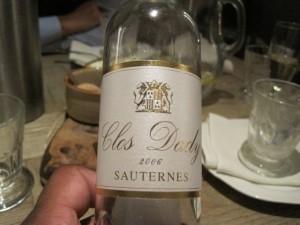 Bramley Apple Doughnuts with Spiced Sugar and Whipped Cream was how it was listed on the menu. These gorgeous puffs, approximately golf-ball sized, arrived in a sturdy wooden basket lined with brown butcher paper and served with whipped cream.
Unlike our American counterparts, I think some explanation is due on the British decadence of baked goods and dairy products. I am a confessed Anglophile and adore most things British and these golden morsels truly exemplified how such a simple thing can be so decadent. To start, being in the company of handful of gorgeous and charming gentlemen, we had been sipping wine all evening and having wine with doughnuts was no exception; here, a 2006 Clos Dady Sauternes.
The doughnuts were studded with a fine Bramley apple purée which provided an underlying richness beyond pure cooked dough. British sugar is finer in texture than American granulated sugar, so the mouth entry is engaging. And then there is the whipped cream. This is not like any American whipped cream; more akin to crème fraîche, it is denser and richer with a slight tang that complements the dried apricot of the Sauternes and the rich apple of the doughnut. And when all was said and done? Yep, they sent me home with some…
29 Walham Grove
London SW6 1QP
Neighbourhood: West Brompton
020 7386 1847