Thursday, April 15th, 2010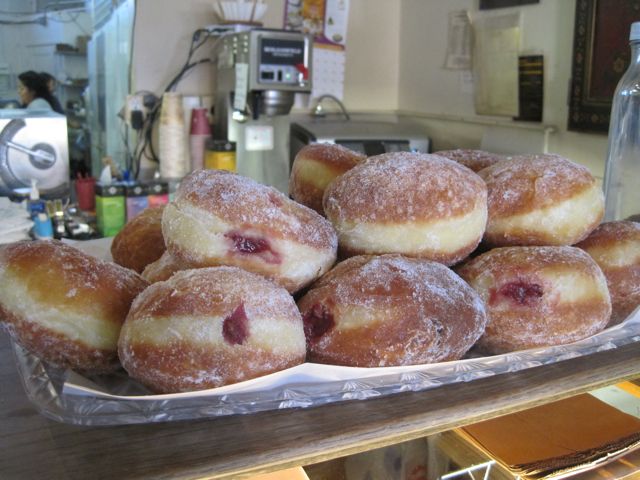 I had heard about the gargantuan size of the Hopkins Street Bakery doughnuts for some time. An evening meeting in Berkeley inspired me to BART over a few hours early for the mile-and-a-half jaunt from the station. It was a beautiful day with early spring flowers in bloom along the Arts-and-Crafts suburbia I walked through, proud of myself for getting in a *little* exercise (secretly justifying what I was about to do to my body and knowing damn well that the walk was not going to counter the doughy goodness I was anticipating).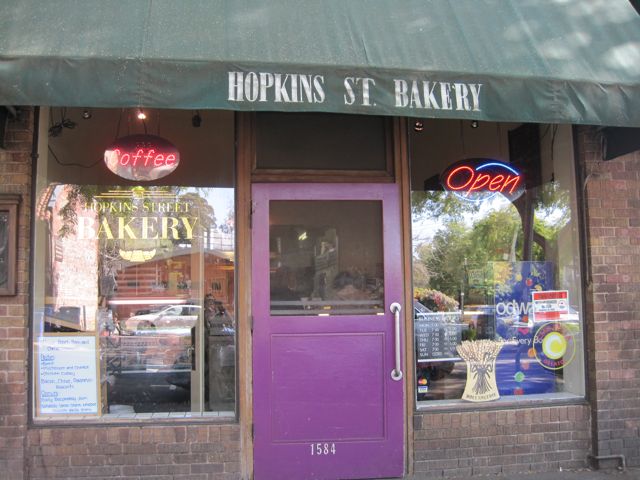 As I came from a back entrance, walking by Monterey Foods, there was a distinct aroma of maple in the air. It was a warm, inviting, baker's maple that briefly made me disband my desire for a jelly doughnut. I turned the corner and saw the purple door and my heart skipped a beat. I was slightly disappointed when I entered — because I had brought a book and was hoping to settle in and comfortably enjoy my treat — only to learn this was a very small store-front bakery with no tables or chairs. Not a full doughnut shop, the glass cases were full of cinnamon morning buns that looked intensely inviting, classic French pastries, racks of bread loaves, and meringues. But sitting on top of the counter, was a giant cookie sheet topped with jam-oozing, white striped monstrous jelly doughnuts.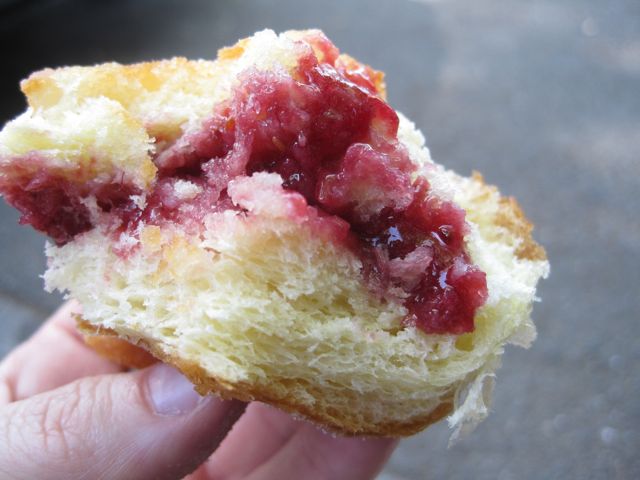 I grabbed my treat and a carton of milk and wandered outside. Even the adjoining Pizza Parlor's wooden benches were full, so I settled comfortably enough on the curb under a flowering tree with a light breeze on the back of my neck. More than 5″ across, this doughnut also has height and girth, puffy and inviting, the first bite provided the much-desired, classic jelly doughnut flavor; granulated sugar coating my fingertips and raspberry jam dripping off the corner of my chin, I was in true doughnut heaven. There was a lot of cake to the doughnut, yes. It took several bites to get to the full river of redness, but it is not a journey one would complain about. My only complaint — and this is entirely my fault — is that I couldn't get to the bakery until well after 4:00 in the afternoon, so I know I was experiencing a level of minor staleness which could easily be rectified with an earlier visit. Now I have to try and get to Berkeley in the morning, this is definitely worthy of a second try; maybe warm from the oven next time!
1584 Hopkins St
(between California St & Mcgee Ave)
Berkeley, CA 94707
Neighborhood: North Berkeley
(510) 526-8188