Thursday, April 8th, 2010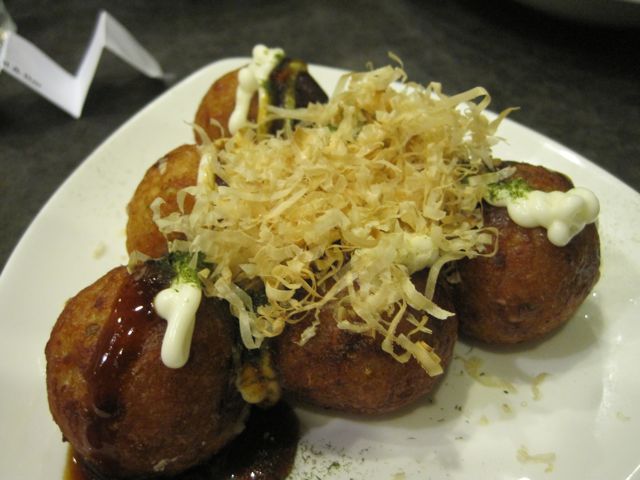 The sub-title of this blog is "doughnuts and more" and while I have briefly bantered about beignets, I have not yet ventured into the myriad of other ethnic fried dough offerings until now. And that my first savory offering is one of my favorite Japanese tastes, is not surprising that it is, in fact, a fried dough.
Takoyaki (たこ焼き or 蛸焼) means "pan-fried octopus" and while occasionally baked, they are most assuredly usually fried. It was a grand adventure with two darling friends to one of the only two restaurants in San Francisco that offer takoyaki, Tampopo — a restaurant more known for its affordable and bountiful bowls of noodles.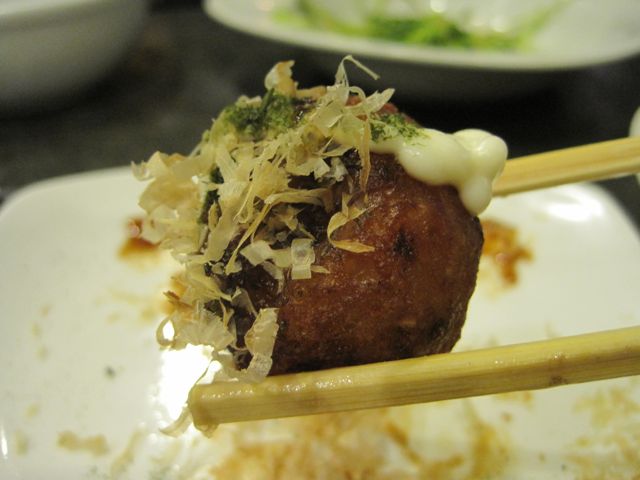 This coming weekend is the Cherry Blossom Festival in San Francisco and there will be long lines of people waiting for this classic street food which originated in Osaka. Perhaps I will be able to sneak out of my booth to snap a picture, as it is easily the one food booth that consistently has the longest line.
About the size of a golf ball, takoyaki are made from a simple egg-based batter with flour where the liquid component is dashi a clear broth traditionally made from sea kelp. Dashi is the broth which forms the base for miso soup. The combination of the three ingredients produces a smooth, luxurious batter into which is added chopped boiled baby octopus and sometimes diced ginger, shrimp, and a little green onion.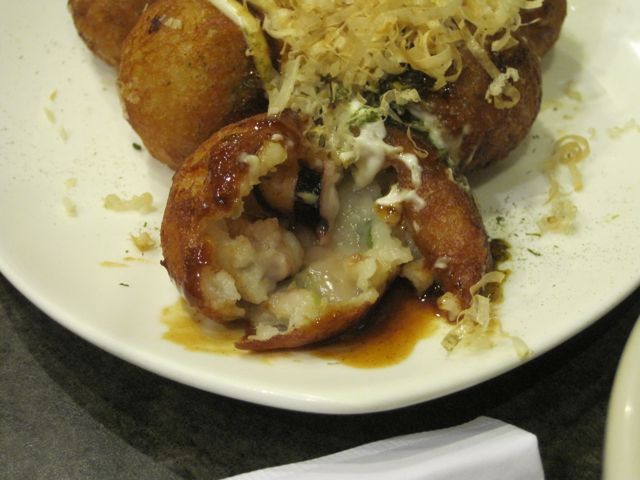 Once mixed together, the dough is poured into a special cast-iron pan which is akin to the Dutch æbleskive pan with half-round indentations. The chef deftly spins the frying batter into the golden orbs which are then served with very distinctive toppings; mayonnaise, okonomiyaki sauce*, shaved bonito flakes, and a very fine sprinkling of aonori. The okonomiyaki sauce is thick, dark and rich and is part soy, ketchup, Worcestershire, and a few other tasty ingredients. Aonori, or green laver, is yet another type of seaweed which is pungent and a bit tangy.
If you have the preconceived notion of most fried doughs having a firm or crunchy exterior to them, here it is not the case; takoyaki are tender and soft. The interior can often still be a bit gooey but finding that special tendril or rich octopus bite inside is the real treat. While I know of Japanese school children being given takoyaki in their bento lunch boxes, they are best eaten warm. This way you can see the paper-thin bonito flakes dancing back and forth due to the heat from the seafood balls. A treat, if you can find them — and worth seeking out.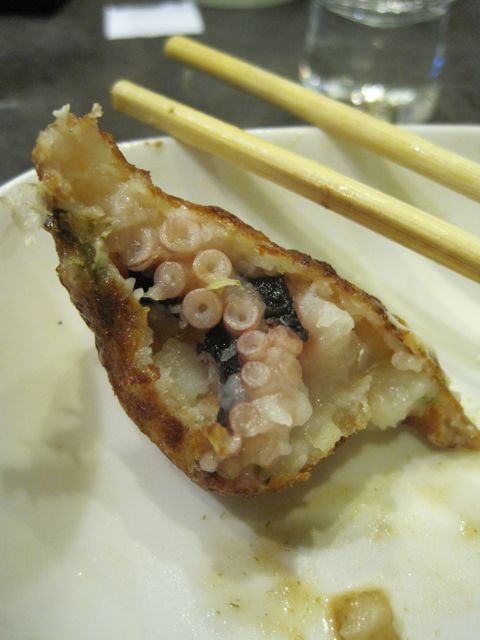 *Okonomiyaki is a type of savory pancake — another favorite of mine — a grilled batter stuffed with ingredients like shrimp, pork, cabbage, and also topped with the same ingredients that go on takoyaki.
1740 Buchanan St
(between Post St & Sutter St)
San Francisco, CA 94115
Neighborhoods: Pacific Heights, Lower Pac Heights, Japantown
(415) 346-7132