Thursday, May 6th, 2010
I have to confess I have never watched The Simpsons. Well, my friend Chi-Chi Maldonado once insisted I watch an episode about that showcased Patrick Stewart as a Stonecutter (read: Mason) because it was a parody on Secret Societies, of which we were members. Come to think of it, Chi-Chi also directed me to an episode where some character who never speaks breaks her silence to explain the philosophy of Ayn Rand. Lots and lots of friends have assured me that I would appreciate the layered, intellectual humor in it but I think it was the legions of adolescent boys who took on guttural grunt of "Doh!" which really started to get to me.
So I've mostly ignored The Simpsons, despite its longevity and staying power on television. I have ignored it until now. Maybe it is time for me to backtrack to the beginning of the series and start watching every episode from the beginning. Because this little ditty I am offering today is about Homer's doughnut addiction and how that addiction confines him to hell.

Some of the interesting points that exist within these two-and-a-half minutes, is the fact that the Devil appears very similar in shape and materialization to that demon which appears in Disney's Night on Bald Mountain. In Beezlebub's human form, he still maintains the cloven hooves of a satyr. Striking for me was the fiery hole that opens in the kitchen, after Homer has consumed the final crumb of the "forbidden donut." As a child, my nightmares of hell was exactly that type of gaping, fiery hole with a centrifugal force that would draw me in. The mere fact that Homer's torments are subjected by the Ironic Punishment Division is barely ironic but I especially like the final comment that James Coco went mad after fifteen minutes of Homer's treatment.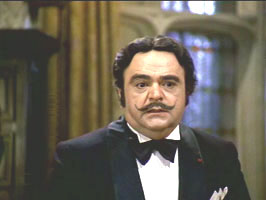 If you don't know, James Coco was a character known in the 1970s. He was rotund in stature and one of my favorite roles that he played was in the spoof, Murder By Death. He parodied the Belgian sleuth Hercule Poirot, penned by Agatha Christie. In the movie, James Coco's character throws a volley of subtle food jokes. And from his IMDB biography, "In his last years, Coco received attention for his culinary talents and best-selling cookbooks. The James Coco Diet, an educational book which included chapters on menu planning and behavior modification as well as choice recipes), was just one that he promoted on the talk show circuit. It is probably not a coincidence that he often played characters with extreme food issues. Suffering from obesity (5'10", 250 lbs.) for most his adult life, the talented actor died unexpectedly of a heart attack in New York City in 1987 at the age of 56, and was buried in St. Gertrude's Roman Catholic Cemetery in Colonia, New Jersey."