Wednesday, May 12th, 2010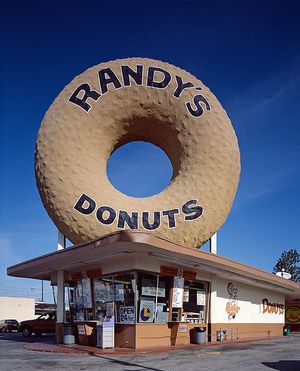 I haven't done a full review of Randy's Donuts in Los Angeles yet. Believe me, I will. I have a LOT to say about this Southern California institution and will undoubtedly refer to it often. I lived in Southern California for almost a dozen years and to this day, their Apple Fritter is the benchmark against which all others are judged. But that is a footnote about their actual product. Today's post is about the architectural landmark which has become such an iconic symbol in so many movies, most recently, Iron Man 2.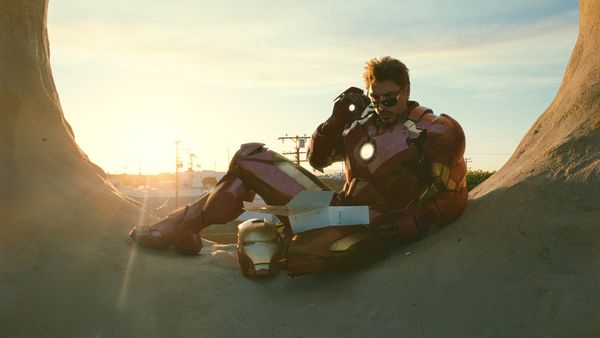 All things considered, it is pretty cool to me that the main character of Tony Stark, despite his superhuman suit, still maintains the same basic needs and desires that we all have after an insane night — the ubiquitous morning-after craving for sugar. In Los Angeles, there is no better location than Randy's; well, technically in Inglewood. Randy's Donuts has the advantage of lying directly off the 405 Freeway, en route to LAX Airport. It is open 24 hours and when I fly to Los Angeles, it is usually my last stop before I fly home (it is expected that I will always bring home samples).
The building dates back to 1952 and is clearly earmarked with a giant, two-story donut replica which sits on top of the tiny structure in which all the goodies are prepared. In Iron Man 2, Robert Downey, Jr.'s character, Tony Stark actually sits inside the name branded, inedible glazed edifice. That's pretty darn cool. The viewers get the classic juxtaposition of a sixty-year-old landmark, hearkening back to a golden age of Hollywood with the action-packed, futuristic cockiness and breathlessly exciting, tongue-in-cheek frivolity.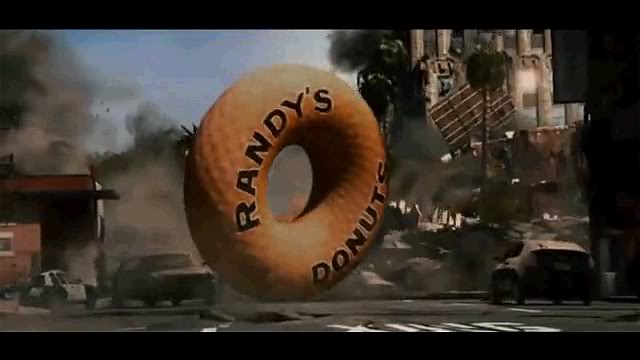 Iron Man2 is certainly not the only time Randy's Donuts have been showcased in a film. Last year, in the film 2012, John Cusack's character, Jackson Curtis ran the gauntlet of world destruction, highlighted by the famous sphere rolling in a cataclysmic path. There was something delightful in seeing everything in and around Los Angeles being completely demolished, but somehow this giant donut rolled, unscathed, to some form of eternal safety. At least that is what I would like to believe and that's the story I'm sticking to…