Sunday, April 11th, 2010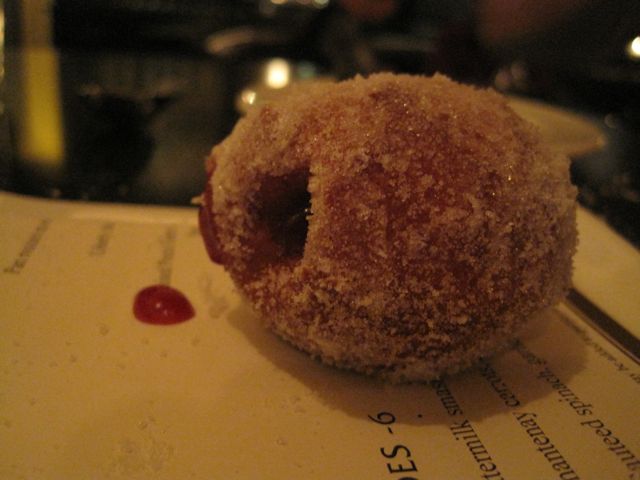 It was pretty funny; Lisa and I were sitting at the bar at Baker & Banker, chatting with an affable server named David, deciding on the dinner choices. The desirability (or not) of a dessert will dictate whether we are sharing variations of starters and entrées. Do we share two starters and two entrées? Three starters and one entrée?  And whilst perusing the menu — and not realizing the dessert menu was printed on the back — I began to inquire about the availability of a fried dough delicacy (because I always try and check, just to make sure).  Before I finished my sentence, David suggested we save room for their specialty dessert, PB&J Doughnuts; strawberry jam-filled goodies with peanut butter dipping sauce. Knowing smiles grow between Lisa and me — she knows me so well and knows how happy this makes me — to have such serendipity.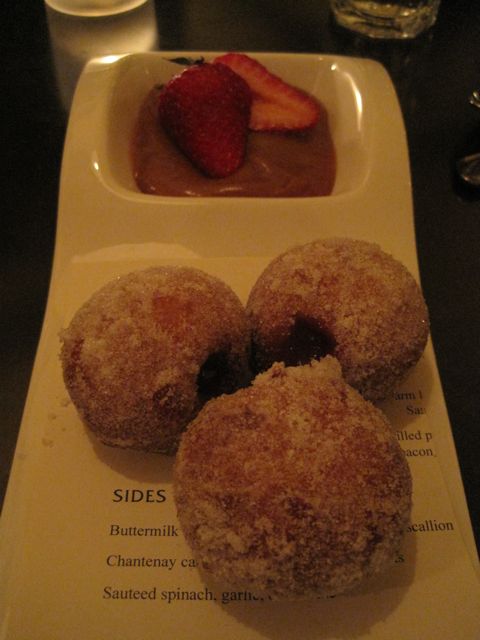 Our diner completed, David advised us that the doughnuts are normally served in threes and would we like four on our order since we were sharing. Trying to watch the ever-growing waistline, three should be more than enough, thanks. The elongated plate arrived with perfectly round globes of wonder. Warm and crunchy, this was Jelly Doughnut Nirvana with warm, house-made strawberry jam filling oozing out with the first bite (a rarity!). So often with a jelly doughnut, one must eat through a third or a half of the doughnut before the jelly appears. Encrusted with granulated sugar, we took our first bites naked, without the dipping sauce and with that first unctuous fruit hitting our taste buds, smiles and groans were immediately emitted.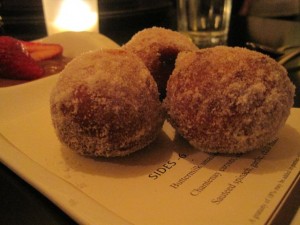 The cake structure was light and spongy with a superb amount of tooth to the crunchy exterior. The dipping sauce was made of three simple ingredients; peanut butter, cream, and powdered sugar. The doughnut-alone-bite was perfectly lovely, but laden with the creamy sauce, one is transported back to childhood with a primal memory of wholesome goodness which has been elevated to elegance while still maintaining that sense of familial comfort.
The biggest problem for me is that these are available to me within walking distance and I could see a serious addiction burgeoning.
1701 Octavia St
(between Bush St & Austin St)
San Francisco, CA 94109
Neighborhoods: Pacific Heights, Lower Pac Heights, Japantown
(415) 351-2500