Monday, April 26th, 2010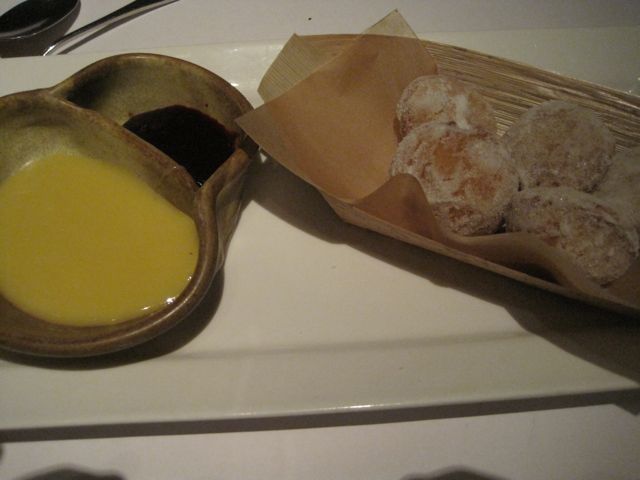 This is sort of a Part II report of Michael Chiarello's restaurant Bottega in Yountville. Part I was from the same meal, but was a Savory Offering of Fried Dough. It was actually sort of funny. My darling hosts and I had finished our meal over a serving of assorted biscotti when we saw an adjacent table being served a sweet version of Fried Dough and as I had been showing them my newly-created website, Ron called out to the waiter and ordered the additional dessert. Wow – I was really touched. I mean, we had just finished dinner AND a pretty decent dessert, but Ron insisted; The Fried Dough Ho needed a complete report!
Here, we are eating a classic dessert presentation, inch-long warm fried dough rolled in granulated sugar and served with two sauces, a lemon curd and a raspberry jam. How much better can it get for a die-hard Fried Dough Ho to have two different servings in one spectacular meal? My only complaint about the doughnuts was the predominant use of a large-granule sugar which hardened to a point of flaking off in large sheets when the doughnut was bit; that meant there was a significant amount of grease still on the doughnuts when rolled in the sugar. One had to bite through large sections of sugar. This could have been rectified by rolling the freshly-dried balls in less sugar or possibly sugar that is more refined. Don't get me wrong, they tasted great, but the sugar "sheets" did not adhere to the doughnuts when bit into but chunked off in the mouth.
The accompanying sauces were quite lovely and well-made as well. I am curious why two sauces would be offered but one in more quantity than the other? I suppose the obvious answer is that they are supposed to go with the curd more with the raspberry being an after garnish, but being a raspberry fan, I actually preferred that sauce over the curd, but the combination of the two was really exquisite. What a fabulous evening it was, having two Fried Doughs in one meal!
6525 Washington St
Yountville, CA 94599
(707) 945-1050