Monday, April 12th, 2010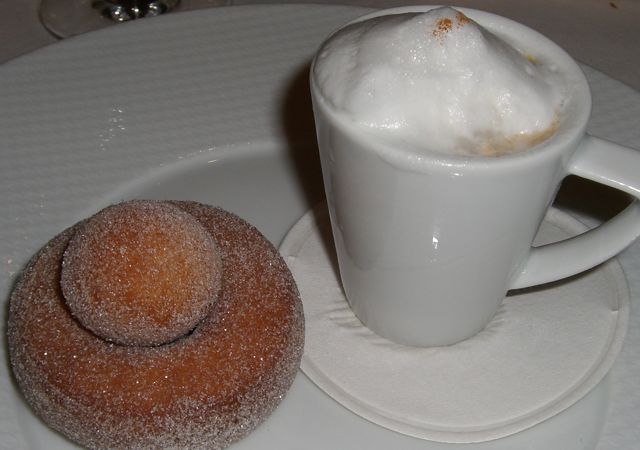 My last meal at The French Laundry was over two years ago. But my memory of their Coffee and Doughnuts offering rings as the benchmark against which all other haute cuisine restaurants' doughnuts must aspire to. Reservations for The French Laundry are some of the most difficult to acquire. The meal lasted well over six hours and was more than twenty courses. And yet now — after all this time — what do I remember most? The white truffle supplement (because the truffle was larger than a billiard ball) and the Coffee and Doughnuts.
You must understand, it is not ordinary coffee which is served with this perfection of golden fried dough, but a coffee pot de crème topped with a light cream foam. And the doughnut? Warm, yes. Lightly dusted with Baker's Sugar (a bit finer in texture than its Granulated Sugar counterpart). A miniature doughnut hole nestled perfectly atop its ringed cousin. The dough is rich and moist and cakey. In a word, Perfect. The roundness of the doughnut was Perfect. The doughnut hole was Perfectly round. It was not served too hot, nor too cold. There was not too much sugar on it, nor was it too sweet.
Rumor has it that this is no longer a standard offering on the tasting menus, but must be requested. I can't confirm that but if you go, you should make sure to ask about it as in their famous Salmon Cornets, it is a classic French Laundry offering which should not be missed, even if it is not on the menu.
And to my great joy and bliss, I was sent home with a small box of doughnut holes… Because that is what they do at The Laundry: They make their customers as happy as they can…
6640 Washington Street
Yountville, CA 94599
(707) 944-2380